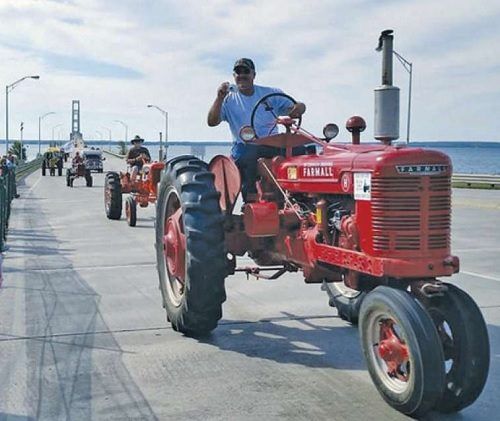 Bridge crossing the Mighty Mac in a tractor
A few weeks ago, about 600 people crossed the Mackinac Bridge, aka the "Mighty Mac" a 5-mile suspension bridge connecting Michigan's upper and lower peninsulas. 600 people doesn't sound like much of a big deal until you realize they did it riding antique farm tractors. Big old Farmalls and John Deeres and other work machines made before 1962 that are more comfortable in a field of manure and corn than high over the Straits of Mackinac on a suspension bridge. As one onlooker undoubtedly pointed out to the paradegoers, "there are faster ways to get to St. Ignace." True, but perhaps irrelevant.
There were few rules, but they were enforced:
Tractor minimum speeds were 10 mph
Required on board: Fire extinguisher, tow strap
No overtly visible leaking oil
What's cool is that all tractors that couldn't meet the above rules still got the chance to ride the bridge, they just had to get a trailer to tow them across.
Bob Baumgras came up with the idea. You don't know Bob? Either do I, but after a few minutes of Google searching I get the feeling Bob is my kind of guy. All Bob had to do to set up the first ever tractor crossing of the Mackinac Bridge and the largest tractor parade in the world was:
Convince the Mackinac Bridge authority to okay four hours of tractor crossing on September 12 (a Friday, one of the busiest days of the week for the bridge)
Organize dozens of tractor clubs and convince hundreds of people to haul their antique tractors across the country for a four-hour ride over a windy bridge
Make nice with both Mackinaw City (note the different spelling all you non Michiganders) and St. Ignace authorities and win over their sheriffs to help supervise the event
Plop that assignment on anyone's desk and I'm guessing it just wouldn't happen. But, luckily, Bob is different. Bob just simply knows tractors and tractor people. Bob also knows how to get things done. He's what a marketer would call an influencer or what Malcolm Gladwell would call a Connector. There are fancy names for people like this—people who can pull together a bunch of disparate material, information and a lack of organization and somehow create something new and somehow organized. My friend Diego and his crew at the Stanford d.school call this sort of thing Creating Infectious Action, which means getting a positive idea to spread. Bob might be a good speaker for their Fall term, at least if there's tractor parking in Palo Alto.
Although I wasn't there it's fairly easy to see that this was perhaps the biggest event in the history of antique tractors. Just reading through a few forums and blogs you run into a wave of emotions that is impossible to stay away from: people crossing the bridge with their father's tractor, celebrating their anniversaries and tearing up while crossing the Mighty Mac. One guy responded to someone who asked why they did this by saying "because we can."
Maybe his response could be modified to say, "because someone like Bob came along and figured out what we all never realized we wanted before."
Bob has a website that is exactly what you want a tractor parts website to look like. Bob talks directly to you on his website ("We had a great time" "Check out what I found wrong on my 1993 Suburban" and "Thank you for viewing Bob's Corner"). Others in the tractor community have since posted photos of the event, written umpteen comments in various tractor forums, posted to their tractor blogs and told their friends and tractor buddies.
Bob likely isn't an expert in marketing, social media or technology (although I do love his website). He created something that—at its core—centered around each individual person and their own journey across the bridge. The thing is damn near spiritual.
Bob cautiously approaches his new creation with a question on his website, "Do you really want to do it again?"